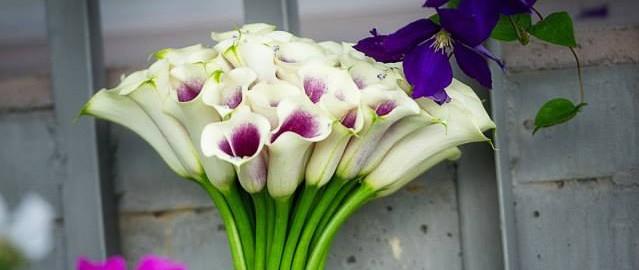 Today we delivered and setup a wedding for a lovely bride and groom at Arrowhead Golf Course If you haven't been to Arrowhead before you are certainly missing out on some of Mother Nature's greatest creations! It is simply beautiful.
Julie and Andrew were so easy to work with … Julie knew she wanted calypso calla lilies throughout the entire wedding…and we made that happen for her!
I'm pretty sure to date, the groom's boutonniere is my favorite made so far!
Take a look and enjoy the professional photos from Studio JK.
The bride had each of her bridesmaids in a different color…I loved the look!
How gorgeous is this couple?! You can see their love radiate out and it becomes so contagious to everyone around them!!
The bride's bouquet was 100% calypso calla lilies with a coral sheer wrap…we added a special touch as a surprise for the bride, a dragonfly necklace (dragonflies were the couple's theme).
We had to wait to scatter these beautiful petals down the aisle … we were thrown for a small loop when rain started pouring just minutes before the ceremony. Thankfully there were beautiful umbrellas provided by Splendor For Your Guests to keep their guests dry!
For the centerpieces, the bride chose to have submerged calla lilies … they look so beautiful, but we quickly learned submerging a calla lily that is extremely buoyant is not as easy as it looks…especially when you add 2 additional lily heads to the stem! However, we figured it out after a couple trial runs before the big day …  a special purple submersible light was added to give a dramatic effect (sadly it's not capture too well in these photos)
Flowers used: calypso mini calla lilies, white calla lilies, rose petals
https://augustmagnolia.com/oakesfields/wp-content/uploads/brides_027.jpg
960
639
oakes
https://augustmagnolia.com/oakesfields/wp-content/uploads/oakes-horizontal.png
oakes
2013-07-13 13:25:18
2014-03-17 14:10:14
A Purple Wedding