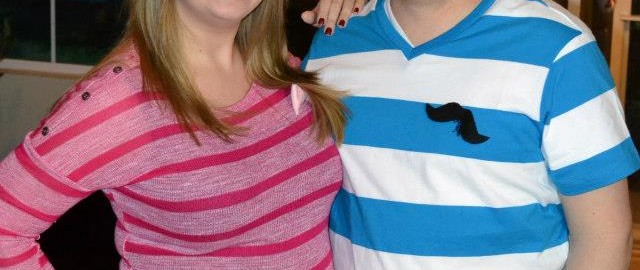 We had the great honor of designing flowers for one of our past brides!! Aaron and Julie get to find out today whether or not they are having a little boy or a little girl!! I am casting my vote now…Boy! All the way!! I know Julie is hoping for a little girl!!
She let us design whatever we wanted as long as the flowers were blue and pink and a mix of both!! It's always fun getting to use your creative side to design!! We also made these cute little cards to include in the main floral arrangements
We used stargazer lilies, bright pink hydrangeas, hot pink roses, white roses,  dutch blue hydrangeas, wax flower and blue star thistle
Here's a look at all the pieces together
And the main pieces up close
I also stole some photos from Julie's Facebook page…as her party was too cute not to share!!  How adorable is that cake?! But even more so, how adorable are Julie and Aaron!???
Okay…I've kept you all in suspense long enough…the moment you have all been waiting for…..It's A….
BOY!!!!
https://augustmagnolia.com/oakesfields/wp-content/uploads/485068_10200774969236082_511407630_n.jpg
960
640
oakes
https://augustmagnolia.com/oakesfields/wp-content/uploads/oakes-horizontal.png
oakes
2013-03-07 21:44:06
2014-03-15 21:55:39
Gender Reveal