Today we delivered to the beautiful Della Terra in Estes Park…I was super excited to deliver to this wedding as I was head over heels in love with the alter pieces we designed for them!!
Here they are packed up and ready for delivery
Little did I know the heart attack I was going to have about an hour and half later…
As we arrived to Della Terra, we found our beautiful bride getting ready in one of their suites … I instantly fell in love with her gown!! How could you not?? Look at how beautiful it is!  All pro photos provided by the wonderfully talented Ali & Garrett Photography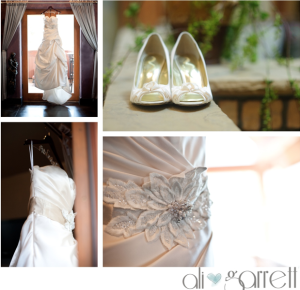 Once we got her and her bridesmaids situated with their bouquets we went down to pin all the groomsmen, which was an absolute hoot! They surely knew how to have a good time!!
After getting a couple laughs in, we turned to setting up the tables inside for the reception…really, we should have gone down to setup the alter pieces … but in our mind, we thought all we had to do was lug out the large wood bases and place the large floral toppers on top and be finished….we had NO idea what was about to happen.
I absolutely loved the bride's want to stick with the mountain feel and use wildflowers and wood boxes.
Once setup, Alli and I ventured down to the ceremony location and started getting everything setup … as I started pulling out the flower toppers, I noticed something really really wrong. One of the flower pieces had collapsed. The foam base holding all of the flower stems together had disintegrated…I had NO idea this could even happen, so naturally, I didn't even come prepared (silly me…I'm a wedding planner! I should be prepared for EVERYTHING to go wrong)!! I was frantic and upset…and literally burst into tears. Thank goodness for Alli…she was able to shake me out of it and remind me we had been through far worse…in my mind however, I instantly thought, my floral career was over!
We sprang into action though and the awesome DJ found us some tape to use…we managed to find an extra vase to use and taped the flowers to the outside of the vase! It didn't look nearly as good as the original, but it certainly didn't look bad either…or very noticeable either…and the amazing photographers were so sweet and let us know they looked great. I was so embarrassed when the bride and groom came down for their first look and she saw all her flowers sprawled all over the ground … to this day, I'm not sure what the bride thought when she saw all the flowers everywhere.
Lesson learned…now I will venture EVERYWHERE with anything and everything I will need if something goes wrong!
Here's the non-messed up alter piece…I'd show you a photo of the other one, but the only photo I can find is super tiny off of the photographers blog.
All in all…though stressful…it was a beautiful day and the images captured by Ali & Garrett were nothing short of amazing!
Flowers Used: dusty miller, lisianthus, roses, fever few, lemon leaf, palm leaf, dahlias, delphinium, larkspur, hypericum berries, green bells of ireland, billy balls,
https://augustmagnolia.com/oakesfields/wp-content/uploads/bridesmaids_010.jpg
639
960
oakes
https://augustmagnolia.com/oakesfields/wp-content/uploads/oakes-horizontal.png
oakes
2013-08-10 16:37:26
2014-03-17 17:25:56
A Beautiful Mountain Wedding